I have very special friend that shares a birthday with me and I created this card for her birthday. When I saw the new release of "Cupcakes", I knew I had to make her a card using it. She says "cupcakes are better than cake because it's like having a birthday cake all to yourself."
I used a mix of techniques and two different sets of stickers, I hope you enjoy making it!
I wanted to make the "foil" of the cupcake silver so I adhered the sticker to a piece of silver glitter paper. This is known as "paper piecing".
Next, I used the Krazy Kreations cool glitter paper to "paper piece" the icing on the top. I considered leaving it white, but thought it needed some color.
I colored the "icing" on the top of the cupcake using copic marker R83, and R29 to color the "cherry".
I used a flip-up card die to create the card base adhering some fun pattern paper that I had in my stash, as a background. I still felt that even though the cupcake looked amazing, the front needed an extra something. So, I used the party hats and balloons from the "Happy Birthday" sticker set as embellishments. I used glitter paper under the balloons and attached the party hats directly to the paper and colored it.
I used the "Celebrate" word from the cupcake set and created a banner with it.
When I opened the card, I realized it needed a sentiment inside. There was a "Happy Birthday" sentiment on the "Happy Birthday" set, but it was vertical. I carefully cut it and laid it horizontally on a strip of white paper.
Lastly, I added some tiny gems to the bottom for embellishment to complete the look.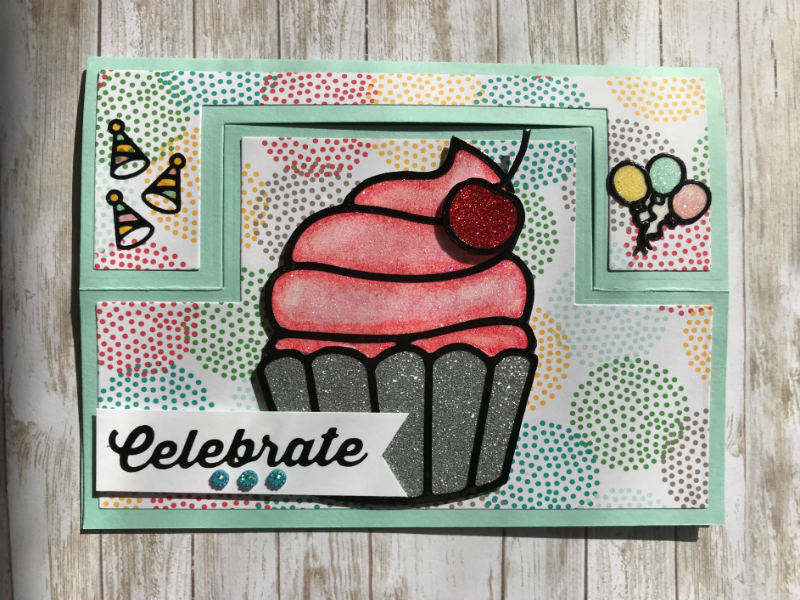 This card is a beautiful, fun, and EASY way to let someone know you care. I hope you enjoy my card and enjoy making it as much as I did. The supplies I used are listed below. Wishing you lots of joy, and take a minute to be creative!
Krazy Kreations Supplies:

Micro Fine Glitter Paper, Cool Highlights

Copic Sketch Markers in R83 and R29
Recent Posts
Hello KK Fans! With the new norm it was a little hard for me to find my crafty bone. With the suns …

Hello KK Fans! I have been thinking outside of my crafting box and went with something a little d …