If you follow my posts, you know I love 3-D projects. The idea of creating a small bulletin board for the back of my front door has been in my brain for about 3 months. As I looked through the Krazy Kreations, September 2017, Watercolor Kit, I realized I had pretty much all I needed to put it together. The cork mat came from Amazon, it measures 18" x 11".
Let's start with the lace detail. The idea for this is one I learned about 20 years ago. I started with the Krazy Kreations 1.5" Sookwang Scor-Tape. Adjust the width of the Scor-Tape based on the width of your lace. I put a long strip on white paper. Then I added a piece of lace. After pressing the lace into the tape, I sprinkled on Glitter Ritz Opaque Micro Fine Glitter, in the Pumpkin Spice Color.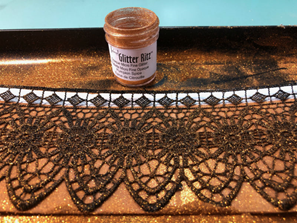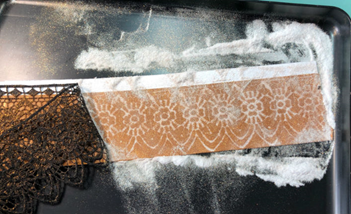 I used a brush to rub it into the exposed areas of the Score-Tape. Then I peeled back the lace and sprinkled on Glitter Ritz Transparent Micro Fine Glitter, Warm Highlight. A word of advice, do this prior to the housekeeper's visit! It is super messy. After trimming the tape to get the scallop, I attached it to the brown paper found in the September 2017 Krazy Kreations Monthly watercolor kit.
Next, I water colored my leaves & pumpkins. For the leaves, I used a pouncing technique that was described in the kit & my Zig, Clean Color Markers, #23, 50, 52 & 63 (as directed by the kit).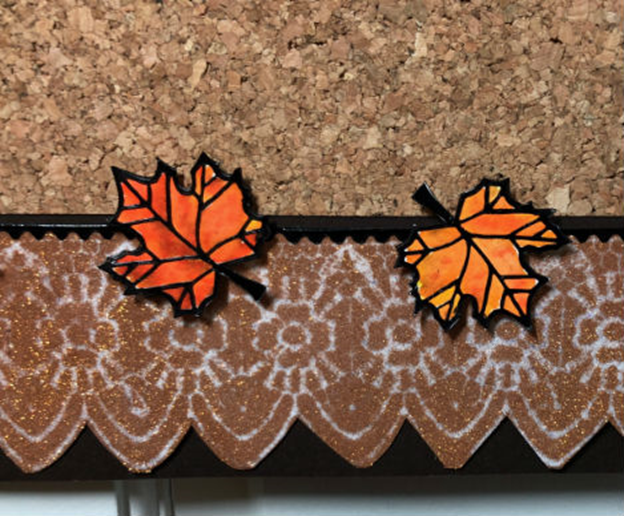 I planned to cut the leaves out using my new ScanNCut. However, I was watching one of those Hallmark Christmas movies – yes, before Halloween - & I got so caught up, I cut almost half the leaves by hand. Realizing I was missing out on using my new machine, I cut the rest with the ScanNCut. As you can see, there is no difference (except in the time it took!!).
Then I did the letters. I tried a couple of techniques before deciding to die cut ovals (watercolor paper) and put scalloped ovals (with the brown paper) behind them. The letters are the ABC Doodles Outline Stickers from Krazy Kreations. I water colored, using the same colors as the leaves & because the paper looked too pale, I took my water brush & washed over each oval, pushing color onto the white paper.

I did my project Sunday & by Monday evening, there were at least 7 Post-It notes on it! I hope it will help me stay organized – we'll see!!
Krazy Kreations Products used:
Krazy Kreations Watercolor Kit, September 2017
Scor-Tape Double Sided Adhesive 1.5" Roll
Glitter Ritz Opaque Micro Fine Glitter, Pumpkin Spice, 1/2 oz
Glitter Ritz Transparent Micro Fine Glitter, Warm Highlight, 1/2 oz
ZIG Clean Color Real Brush Markers - 23, 50, 52 and 63
Recent Posts
Hello! This month I am excited to share my Krazy Kreations Valentine's Day greeting card with you. …

I purchased the Zig clean color real brush water base markers a while ago and never did anything wi …

We all have favorite techniques, colors & subjects. For me, it is coloring. My go-to medium is wat …