I love to do 3-d projects. This idea comes from something I saw on Pinterest. It was inexpensive and easy to make.
I started with an inexpensive wreath from my local craft store. It measures 12" across. I placed clothes pins (from another craft store) all the way around.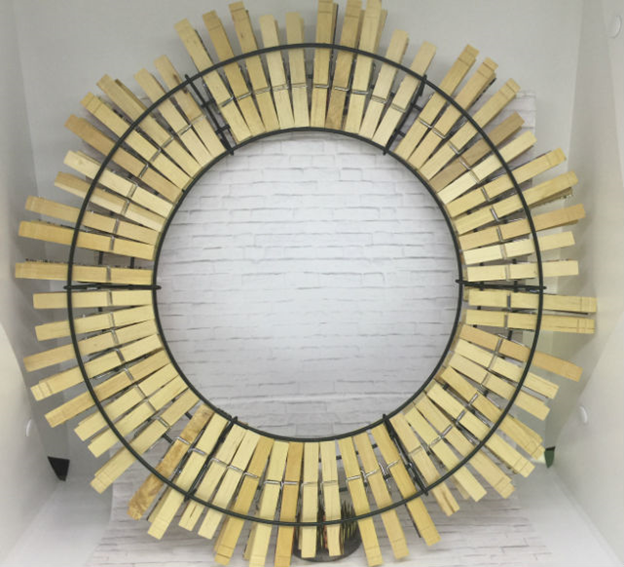 Then it was time for the fun! I used Authentique brand paper – the Mysterious collection. I put a Krazy Kreations 6" x 6" Double-Sided Adhesive Sheet on the back of the paper (covering the side I did not want to use). I used a 6" x 3 ¼" sheet. After burnishing, I cut strips (just under ½" thick).
The one exception was the bat sheet. I wanted glitter on top, so I placed one Double-Sided adhesive on the back and one on the front. Then I peeled back the paper backing on the front side & poured on Krazy Kreations Crystal Glitter Ritz, Warm Highlight Glitter. After burnishing it with my finger, I cut the paper into strips.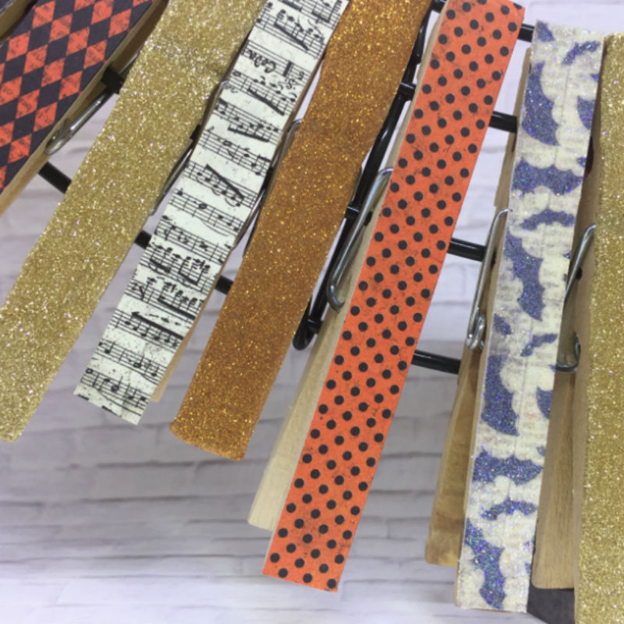 For the glittery clothespins, I used a sheet (6" x 3 ¼ ") of the Double-Sided Adhesive, covered it with glitter, burnished it and cut it. The two glitter colors I used were Pumpkin Spice and Champagne. Sadly, I did not have black. I will order black & use it to make the one for my mom (I try to make her a project every month).
Next, I colored my leaves & pumpkins with Zig Clean Color Brushes. I used 041 & 044 for the stem & leaves. The pumpkins were water colored with 052 & 070. I wet the area, added the lighter value, put down a thin line of the darker value and blended out the line with more water. I had to cut it out by hand, but in October I am buying a Brother Scan & Cut, so I think my life will get a little easier!!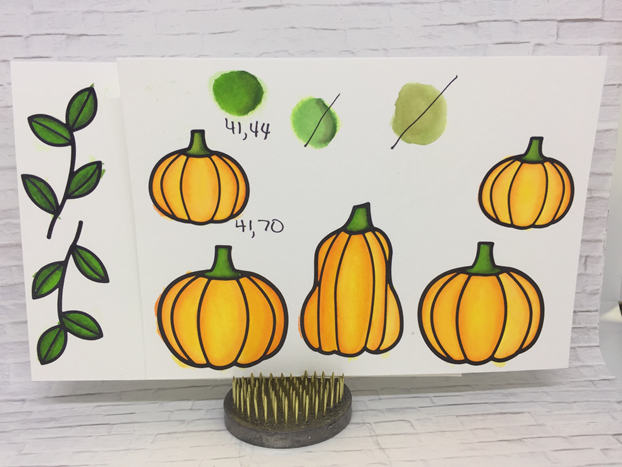 Finally, I bought a little piece of slate from the craft store & using 3 in 1 glue, I made the BOO!

I covered the letters with Beacon 3 in 1 Glue and applied glitter – a word of advice - do your glittering the day before the housekeeper comes to clean!
Because the colors of Halloween & Thanksgiving are similar, I am going to flip the slate and use the back, adding leaves from the September Watercolor Club and I will add the word "Thanks". Two holidays – one wreath!!
Items used:
Authentique Paper – Mysterious
Crystal Glitter Ritz, Warm Highlight, Pumpkin Spice and Champagne
Krazy Kreations Pumpkin Patch Stickers
Recent Posts
Hello KK Fans! With the new norm it was a little hard for me to find my crafty bone. With the suns …

Hello KK Fans! I have been thinking outside of my crafting box and went with something a little d …