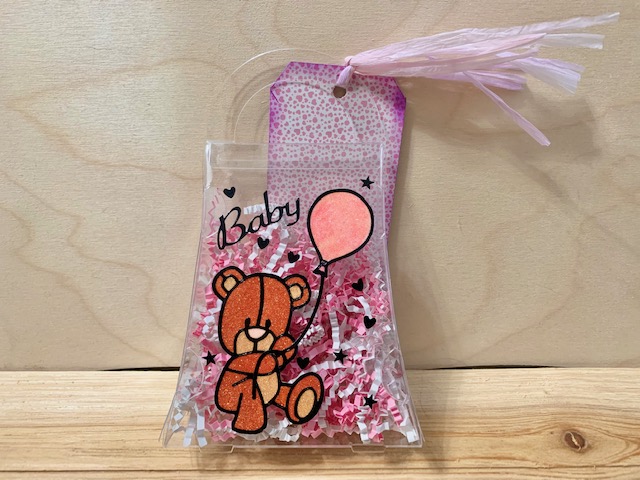 Hello KK Fans! This week I worked on baby shower thank you bags using the cute baby and bears outline stickers by Krazy Kreations.
This cute little bag will let you give all your guests a little gift/treat and say thank you at the same time. Krazy Kreations has a wonderful verity of outline stickers for just this occasion.
To create the baby girl thank you goody bag:
1. I started with the bear, balloon, and all the little baby items.
a. Preparing the Glitter Paper: I needed to burnish it. To do this you rub your fingers on the glitter paper to make it smooth remove any loose glitter and the oils from your fingers makes the glitter shimmer and shine even more.
b. The outline stickers: I used were the Bears(3040) and baby (3087) from Krazy Kreations Outline Stickers and adhered them to the glitter paper. Using my fingers I rubbed the stickers onto the paper, and then turned over the paper and rubbed with pressure to ensure the sticker was stuck securely onto the glitter paper. This will prevent the color from bleeding between the sticker and paper.
c. I used Copic markers to color the outline stickers. For the bear's body I used E13, E08, E31, the nose R20, and for the tummy, mouth, ears and bottom of paw E13 and E31. Make sure to always start with the lightest color first. When adding the dark color I feathered it, making sure not to leave even straight lines. This makes it easier to blend the colors. Once the coloring is completed, I cut the hive and bees out and used a black Sharpie to color the edges. Using the black sharpie will hide the white edges and make it have a nicer finish.
2. The bag is from Krazy Kreations. It is the clear acrylic purse box.
3. After cutting out the bear and balloon outline stickers I used Zip 2 way glue to adhere the pieces to one side of the purse. The hearts, stars and word "baby" were stuck directly onto the acrylic.
4. I then took a manila tag and covered it with paper from Authentique's "Swaddle" paper pack. Repunch the hole and ran pink and purple raffia.
a. I adhered "Thank you" Krazy Kreations Thank You sentiment stickers. Pop dotted the ABC blocks, glued the bottle, rattle and duck. To give it a little more cuteness I glued 3 pink Jelly Shaker Beads from Krazy Kreations. I chalked the edges of the tag with a purple chalk writer.
6. The onesie and booties were glued to the acrylic purse.
7. I filled the purse with pink and white decorative shreds.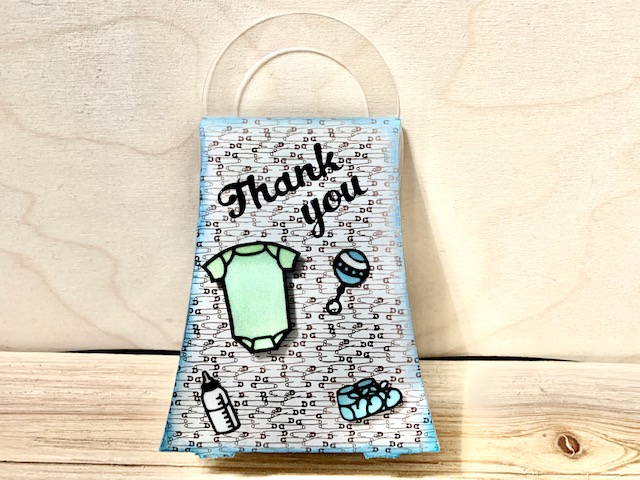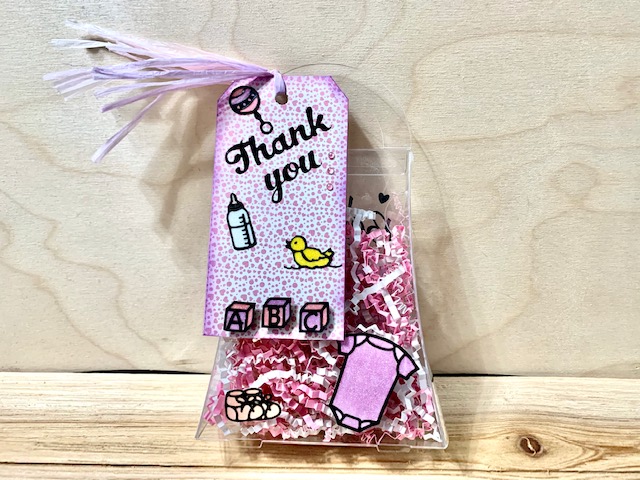 Have a beautiful day filled with lots of creation!
Thank you for stopping by,
Cherie
Krazy Kreations Supplies:
Micro Fine Glitter Papers - Cool Highlights and Warm Highlights
Copics - E13, E31, E08, R20, R20, RV23, V01, V12, RV21, E00
Authentique Paper- Swaddle Paper
Zig - 2 Way Glue
Other Supplies:
Scrap That!- Pop Dots, Purple Chalk Writer
Recent Posts
Hello KK Fans! With the new norm it was a little hard for me to find my crafty bone. With the suns …

Hello KK Fans! I have been thinking outside of my crafting box and went with something a little d …